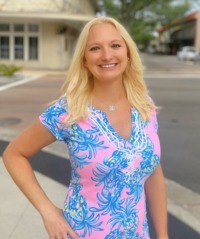 Hi! Janelle Miller, here. I'm a 3rd generation Bradenton FL native and so is my husband! I know it is rare, but why would you want to live anywhere else?
After graduating from Manatee High, "Go Canes Go," I furthered my education in Gainesville, FL. GO GATORS!! For 20 years I served my community in the dental field as a Certified Registered Dental Hygienist. My career in Dental Hygiene was extremely rewarding, but it was time to turn the page to the next chapter in real estate. I am loving serving my community in a whole new way!
As the daughter of a local residential contractor, I have lived in over 16 homes all in Manatee County. This has taught me so much about construction, real estate, and this beautiful area. My husband and I have completely remodeled our home, including adding on 1000 sq ft! I love home renovations and seeing the potential in a home. While it was a lot doing most of the work ourselves, we love to get our hands dirty with remodeling. Looking back at where we started with a house, compared to the home we've created over time, is extremely fulfilling.
When I'mtaking time to relax, I am with my wonderful family! My amazing husband, three adorable kiddos, and 2 cool dogs bring me so much joy. Tanner (12) is our flag football man, Payton (6) is our extremely active and fearless Tomboy, and Harper (5) is our funny, girlie girl princess. We are an active family who you may see riding our bikes around town, or on the water boating and fishing. We love entertaining and getting together with family and friends.
I look forward to meeting you, getting to know you, and finding you exactly what it is that you are looking for. Whether it be buying or selling your first home, forever home, vacation home or rental property. I will strive to make the process easy, enjoyable and as quick or slow as you want to go. Let's get looking for your piece of paradise in this beautiful Sunshine State!